When you turn on your tap do you ever wonder where exactly your water comes from? What journey has your water has taken between the time it fell from a cloud and to the point at which you use or consume it? And where does it go after your are done? For the answers to all of these questions lets take a look at the source of our water here in our community, the Spokane Valley–Rathdrum Prairie Aquifer.
Spokane Rathdrum Prairie Aquifer
The Spokane Valley–Rathdrum Prairie Aquifer (SVRP Aquifer) covers about 370 square miles in northern Idaho and eastern Washington. It is composed of Ice Age flood deposited gravels, cobbles, and boulders and is filled with water. No continuous clay or silt layers exist across the SVRP aquifer to keep contaminants from the surface moving down into the SVRP aquifer. Groundwater in the SVRP aquifer flows from the northern Rathdrum Prairie area southward to Coeur d'Alene–Post Falls, then toward the west into Washington. The water flows through Spokane–Spokane Valley areas and separates to flow around the Five Mile Prairie. All the water eventually empties into the Spokane and Little Spokane Rivers that flow into Lake Spokane.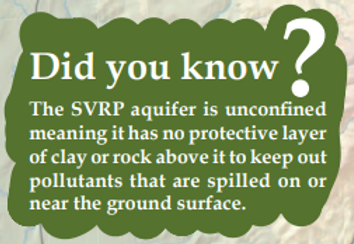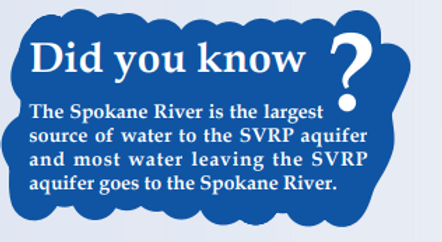 The large spaces between the rocks in the SVRP aquifer allow relatively large interchanges of water with the river. The Spokane river is the largest recharge source to the SVRP aquifer. What that means is our Aquifer, the primary source of drinking water is constantly mixing with the Spokane River. The Spokane River is contaminated with more of a potentially harmful fire retardant than any other waterway tested in the state, The reports also show that the river continues to contain more adverse chemicals and metals compared with other bodies of water statewide.
Where does the Water Come From?
Water enters the SVRP aquifer from several sources including:
How has your waters journey affected its quality? And what does this mean for YOUR quality of life?
Because the aquifer serves as the sole source of water for most people in the area it is important for the water to be continuously tested to ensure that it meets federal standards. However the water's journey from testing site to your faucet can cause the water quality to change. From broken water and sewer lines, chlorination stations, and miles of old water pipes it is important to conduct water tests at the home to paint an accurate picture of your specific water chemistry. The United States Environmental Protection Agency (EPA) recommends homeowners test their water annually or even more frequently in some situations. Click the link below to find out how homeowners can obtain free water testing in Eastern Washington and Northern Idaho: